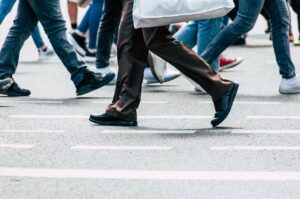 Pedestrians can be found at fault in an accident when they try to cross a road in an illegal spot. But motorists also owe a special "duty of care" to those on foot and can be liable no matter where a collision occurs.
Pedestrians should use crosswalks at intersections to safely cross the street, but these crosswalks aren't always nearby. It's also up to motorists to slow down wherever they spot a defenseless pedestrian. They must reduce speeds to they can safely avoid striking someone on foot. When they don't, they can be held at least partly responsible for injuries in a collision, even if the pedestrian wasn't using a crosswalk.
Fatal Pedestrian Crash Along Route 91 in Riverside
A tragic pedestrian collision claimed a victim's life in western Riverside Monday afternoon. Patch reported the accident occurred along Route 91/Riverside Freeway west of Tyler Street on June 12, 2023.
The California Highway Patrol responded to the scene near the Galleria Shopping Mall around 12:30 p.m. They determined that a pedestrian had attempted to run across the freeway. The victim was struck by a semi-truck in the eastbound lanes. Investigators said that the victim died from the injuries suffered.
The Highway Patrol shut down part of Highway 91 for almost 4 hours as they looked into the circumstances surrounding the crash.
Pedestrian Accident Dangers in Riverside
Pedestrians in Riverside are often left without safe routes to travel the city. They can be a half-mile or more from a crosswalk. Those crosswalks can also be marked off with faded lines and leave those on foot with only seconds to cross many lanes of traffic. That's not to mention the risks that distracted drivers pose, as motorists sometimes miss spotting pedestrians and changing traffic lights completely.
Riverside's pedestrian accident rates have been on the rise over the past few years. In 2021, California's Statewide Integrated Traffic Records System (SWITRS) recorded 74 pedestrian accidents involving injuries along with a tragic 11 fatalities in Riverside. Both numbers rose in 2022. The city saw 85 serious pedestrian accidents for the year. Those instances caused at least 12 deaths.
The extreme vulnerability of pedestrians is why all drivers are required to monitor every lane and crosswalk for those on foot. At the first sight of a pedestrian, motorists must slow down in order to ensure they can stop to prevent a collision. Pedestrians must also act for their own safety and not take unnecessary risks. However, drivers in Riverside can also be assigned liability in an accident when they don't show enough care toward pedestrians.
Contact a Fullerton Pedestrian Accident Lawyer
If you or a loved one have been the victim of a pedestrian accident in Fullerton or Riverside, please speak with a skilled Fullerton Pedestrian Accident Lawyer. It's an important step so that you stay informed about every benefit available to you and your family. Families should know that after the loss of a loved one, they can seek help with funeral costs through a wrongful death claim. They would seek help in the future when the deceased will be unable to support the family with a weekly paycheck.
Contact GK Legal for a free case review. There's no obligation to you or your family, but if you feel we can help you secure the support you need, you won't need any money to hire us. We don't accept payment unless we win your case for you. Our fee then comes out of the settlement money your family receives.